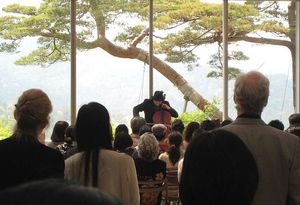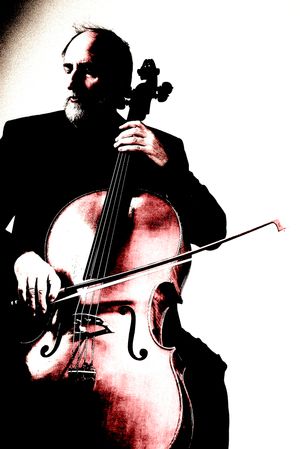 "

Friesen is a superior performer able to synthesize a vast array of influences and ideas into an entertaining, musically satisfying whole. "
— Tower Pulse
"

Never before have I seen a musician play the cello with such a fury and virtuosity. A whirlwind...incredible."
— El Heraldo de Aragon, Spain
"

The music is beautiful and so is the playing."
— Yo-Yo Ma
Moving from Bach to rock, from classics to contemporary with energy and ease, Grammy-winner Eugene Friesen blends traditional and original repertoire with stories, masked characters, electronics and poetry to reveal the inner artist. Eugene's solo show, "Soul of the Cello," is both an emotional musical journey and an opportunity to witness the passion of a musician in full detail. Eugene makes exquisite use of the cello's profound gravity and soaring melodic qualities in stirring originals and works by J.S. Bach, but also swings and rocks in improvisations and contemporary pieces which display the cello's impressive range and versatility.   
Eugene is a trail-blazer on the cello. His experience playing with drummers from all over the world, plus jamming with poets, dancers and actors have driven him to create original musical responses which transcend the traditional use of the cello. Doubling cello lines with his voice, lightning-fast double-handed plucking techniques, bold glissandi, percussive bow work - these are some of the colors of Eugene's "Soul."   
Also unique are masked characters introduced to illuminate aspects of inspiration and imagination. Using masks made by Robert Faust of Faustwork Mask Theater, Eugene transforms himself on stage in two compelling original pieces, one comedic, one dramatic.   
An avid believer in nature's power to restore and inspire, Eugene accompanies the song of a whale in his hauntingly beautiful composition "Humpback Harmony," based on a personal eye-to-eye encounter. With tasteful use of electronics and laptop computer, he also creates multilayered textures and rhythms in live performance giving symphonic support to his distinctive improvising and expanding the textural palette of his concerts.   
For years Eugene has performed the works of a thirteenth-century Sufi mystic, Jelalladin Rumi. Rumi's work is widely known in English through the brilliant translations of Coleman Barks, with whom Eugene was featured in the 1995 Bill Moyers television special, "The Language of Life." In "Soul of the Cello" Eugene performs three Rumi poems using voice and cello to convey the amazing relevance, depth, and sensuality of the ancient writings.